NOTICES OF EVENTS AND INFORMATION
●●●●●●●●●●●●
●●●●●●●●●●●●
●●●●●●●●●●●●
●●●●●●●●●●●●
●●●●●●●●●●●●
●●●●●●●●●●●●
THE top of the table clash in Division Two of the Lothians Buses sponsored under-13 league in the Eastern Region Youth FA at Edinburgh Academy Playing Fields lived up to all expectations with both sides playing good passing football in testing conditions, with the visitors from the Borders taking all three points in a 3-2 win, writes LES ATKINSON. The visitors took the lead after a good through ball on the right was chipped over the advancing Spartans keeper, Thomas Swinney. Spartans pushed forward and after two successive corners, grabbed the equaliser after Craig Low volleyed in a Fraser Hunter cross. Peebles pushed forward again down the right and a strong shot deflected off the Spartans defender and up and over the keeper to give Peebles a 2-1 half time lead. In the second half, with the wind behind them, Spartans took the game to Peebles and a deserved equaliser came from the boot of Isaac Imrie from a 20yd free kick high into the Peebles net. Peebles came back into it after withstanding the Spartans pressure and forced a couple of corners. The second of which led to a great headed goal as their fullback drifted in unnoticed. Spartans could have equalised late on as a well taken penalty by Greg Atkinson was superbly saved by the Peebles keeper. The game was well handled by the match official and the behaviour of both sets of players and supporters was a credit to their respective clubs.
Spartans - T Swinney, F Dodds, J Hepburn, A Black, J McKinley, I Imrie, G Atkinson (capt), M Rose, C Low, F Hunter, M Mitchell, H Hill, C Boyle, R Haldane, D Shields, S Simpson
Peebles – G Amos, S Young, J Boyd, E Winyard, A Reilly, C Howie, B Lochrie, S S Keith, S Martin, J Tait, S Davies, K Clyde, J Parker, D Hogg.
●●●●●●●●●●●●
LEITH Athletic and Edinburgh City under-15s produced a great game of football in their Lothian Buses league fixture in the Eastern Region Youth FA at Leith Links. After a tremendous struggle, it was the home side that emerged triumphant, lifting all three points in a 3-0 win. That final scoreline was a tough one on the visitors as they put a tremendous amount of effort and commitment in to this cracking league clash. Leith coach, Bert Bungay, said: "It was hard and the wind spoiled the game for both sides!" In the first half, playing against the wind, Leith Athletic created the better chances and, possibly, could have opened their accout early on. But it was not all one-way traffic my any means and the white-shirted Edinburgh City players created half-chances of their own, but it must have seemed like they were running in to a brick wall when they got close to the powerful young Leith goalkeeper, Andy Haggon. What a formidable presence this young goalie had and the Edinburgh City No 11, Rory Scott, experienced the full weight of an uncompromising challenge from the keeper when he came off his line to win the ball at the feet of Scott. Watching from the sidelines, I winced when they two players made impact and it did not surprise me at all, that it was the goalkeeper who came away with the ball. Keith Mason was denied an opener for the home side by a great saving tackle from one of the best players on the pitch, Edinburgh City's big No 4, Adam Porteous. The Craigmount High School pupil was immense in the heart of the visiting defence. Then Scott Harrison fired a snap shot on to the face of the City crossbar. At the other end, a good run from Scott on the left ended with a half-chance for Mark Hendrie, but he snatched at the ball and it flew over the bar. Leith had the ball in the Edinburgh City net on two separate occasions, but the quite excellent match referee, John Binnie, was perfectly placed to chalk both goals off for offside. In another attack by the home side, Edinburgh City were lucky to escape and, when the ball was switched to the other end of the pitch, it was the big Leith keeper who performed heroics to keep the visitors from going ahead, punching a great shot up in the air and then getting back to clear the ball off his line. Scott had another good attempt at the Leith goal and the play raced to the other end of the pitch, but it was still 0-0 at the break. Shortly after the start of the second half, Leith Athletic, deservedly, went 1-0 up, with Scott Harrison following up to beat Edinburgh City keeper, Dean McGregor in a challenge to a loose ball and then run it over the line for the opening goal of the game. Then McGregor saved another certain goal when he diverted a shot from Gareth Ewing away from goal. Patrick Towie was the next to test McGregor as the pressure mounted on the City goal but he was picking the ball out of the back of the net shortly after that, with David Kirkland scoring Leith's second counter from a good header. Edinburgh City never gave up and they continued to battle for every ball as the light faded quickly, but they lost another goal in the dying seconds of the game, with Bobe Boyd on the mark to make the final scoreline 3-0 for Leith Athletic. This was an excellent contest between teams from two of the biggest and best-organised youth football clubs in Edinburgh.
Leith Athletic - Andy Haggon, Mathew Lloyd, Lousi Hogg, Blair Simpson, Bobe Boyd, Ross Downie, Steven Miller, Gareth Ewing, Keith Mason, Patrick Towie, Robin Cumming, Connor Kirkland, Scott Harrison, Michael White, David Kirkland, Mathew Watson.
Edinburgh City - Dean McGregor, Danny Cunningham, Adam Porteous, Cameron Sneddon, Sean Foster, Mark Hendrie, David Smith, Rod Farnood, Ryan Hall, Rory Scott, Lewis Irvine, Elliot Lindsay, Grant Scott, Charlie McKenzie.
Referee - John Binnie.
*Both these clubs are struggling to find suitable facilities for their teams, with Leith Athletic hunting for pitches for their 600 members top play and train on, while the future of Edinburgh City's home base at the shocking council-owned ground at Sighthill is shrouded in doubt, with the revelation that Edinburgh City Council aim to build a rugby and athletics stadium in this grid-locked part of Edinburgh in the future, along with a huge sports complex. The five pitches at Sighthill are likely to disappear for ever if these plans ever reach fruition. Why anyone would want to build another rugby stadium in an area of the city that has seen Boroughmuir Rugby Club get more than £3m pounds from the sale of ground at Meggetland to a private housing developer for their own exclusive stadium and magnificent clubrooms is baffling to most people. In additon, Forrester Rugby Club are to get their own new clubrooms and lounge bar built for them at the rebuid of the new shared campus between Forrester High School and St Augustine's High School - just down the road from Sighthill! Even more unbelievable is the fact that Salvesen Boys Club, who are currently based in the grounds of Forrester High School are to 'get a room in the school' for the use of their 300 members and families!
●●●●●●●●●●●●
ST AUGUSTINE'S High School's reputation as a top football school suffered a double blow when both their under-13s and under-15s crashed out of their respective age groups of the Scottish Schools shields at the weekend. The younger age group were totally outclassed by a very good Currie High School outfit and the visiting side had the game well and truly sewn up by half-time, leading 7-0. Fergus Lockhart opened the floodgates when he made it 1-0, then goals followed at regular intervals from Craig Rennie, David Aitken, Chris Nairn (2), Sean Higgins, Owen Brady and Nathan Leicester. The honest players in the home side rallied after the break and tightened up at the back, losing only a couple of more goals in the second half. Currie, had by that time, the game in the bag! On the bigger of the two pitches at the top-class playing fields at St Augustine's High School, it was a good day indeed for the visiting Ross High School combine. In their all-black outfit, they got all the breaks in a terrific first half, scoring three goals in the first half to give themselves what proved to be a winning 3-0 lead at the break. Ross High coach, Darren Kaski, said: "We rode our luck in the first half!" St Augustine's enjoyed more than their share of possession and played a lot of good football but it was not their day at all, particularly in front of goal. In an excellent start to the game, it was the East Lothian schooll that opened the scoring with a superb goal from Sean McGinn from 18yds out. The home keeper was well beaten by that shot that put Ross High 1-0 in front. At the other end, Ryan D'Angelo had a good run, taking the ball away from the diving keeper, but his shot lacked the power to cross the line and it was booted away off the goal-line by a Ross High defender. From the resultant corner, the visiting side broke away up the right and they scored a shock second goal from Dean Brett, with the home defence out of position. What a blow that goal was to the confidence of the St Augustine's players and they were under pressure from then on. They did create several good chances to score but the anxiety among the players was evident with shots flying wide of the target time and time again. The loss of two goals did not, however, teach the St Augustine defenders a lesson and they were caught out again in another break up the right and it was Brett, again, who fired the ball in to the home net to put Ross High 3-0 ahead at the half-way stage. The home side never fully recovered their poise after losing these three goals. In the second half, St Augustine's continued to create half-chances, but the East Lothian defenders were more than a match for them, both physically and technically. The frustration among the players was evident in the second half, with match official David Manson having to speak to several players in a bid to calm things down. The homesters did have the ball in the Ross High net, but it was correctly chalked off for offside. Philip Burns then hammered two shots well off target in raids on the Ross High goal and so the pattern continued, saints creating chances and missing them! In another excellent move by the home side, Stephen McGinn did everything right as he set himself up for a shot - only to see it go wide of the post. Eventually, St Augustine's did manage to find the back of the visitor's net, a shot from Lee Walker spinning off a Ross High defender and over the outstretched arms of goalkeeper Tommy Docherty to make it 3-1. And, despite even greater effort from the home players, that was still the score at the end of a tough Scottish Shield tie. Any side needs luck in a tense cup tie and it was Ross High that enjoyed more than their share of the breaks in this game. But St Augustine's did not carry the same threat up front as the visitors and that was, possibly, the reason why Ross High deserved their success. The visiting defence was much better organised throughout the game in to the bargain.
St Augustine's High School - Josh Bryant, Patrick Lewis, Allan Smith, Dale McKenzie, Luca Cortelessa, Lee Walker, Jo Bate, Laim Sutherland, Ryan D'Angelo, Kevin Taylor, Daniel Wales, Stephen McGinn, Gary Thompson, Philip Burns, Tony Boyle.
Ross High School - Tommy Docherty, Graeme Reid, Ryan Hall, Michael Porteous, Darren Ramsay, Anton McKillop, Dean Brett, Graig Wejkovic, Sean McGinn, Liam Thompson, Rhys Reynolds.
Referee - David Manson.
●●●●●●●●●●●●
EDINBURGH City Colts beat North Berwick 7-2 in the semi-final of the under-14 Pilmar Smith Cup at Sighthill, leaving Colts ecstatic coach, George Gaunt, saying: "A huge 'well done' to all the boys! I couldn't be more pleased for them and it will give them a huge boost to help get through the winter months knowing that they have a cup final to look forward to in the Spring. In conditions that weren't even suitable to play football let alone a cup semi-final, both teams performed heroics. EC won the toss and decided to shoot with the gale force wind to try and rack up a bit of a lead before second half. .The boys came out with all guns blazing and pinned North Berwick back into their box for most of the half. We had hit the bar and forced two corners within five minutes. After 10min, Chris Graham worked a great short corner and swung the ball into the box for David Hutchison to score with a fantastic diving header. Jordan Locke was next up when he received a pass from out wide, took a great touch on the edge of the box and fired a low shot into the bottom corner of the net. Liam O'Donnell expertly finished the first of his goals following a fantastic weighted pass from David Hutchison through the heart of their defence. Liam's 2nd quickly followed when he bravely slid in with the goalkeeper and just managed to nick the ball past him into the net. Craig Lamb then got himself onto the score sheet when he drove into the box and hit a sweet shot across the goalkeeper into the opposite corner. The final goal of the half came from a trade mark Chris Graham free kick - from 20yd out he hit a stunner into the corner of the net. Under normal conditions a 6-0 half time lead would mean game over but the boys were sent out in no doubt that there was still a lot of work to do. Most importantly they knew that they could not concede an early goal or the flood gates could very easily open! And what a great show they produced. It wasn't until the 18th minute of the half that Berwick finally got the goal their play deserved albeit from a defensive point of view it was a real shocker - no one took control to clear the ball and it finally ran through to Berwick's striker to tap into the net. Following another couple of scares when Berwick hit each post, we finally managed to get out of our half and when Matthew Gaunt sent over a great cross, Craig Lamb found himself in acres of space inside the box to calmly slot past the keeper for his second of the game. Berwick managed to score a second goal with 10min to go but it was too late as EC held on for a fantastic victory. Every one of the boys can be very proud of their performance and having a cup final appearance to look forward to is no less than their early season exploits deserve !
Edinburgh City - Adam Moore, Marc McKeating, Alan Reid, Ross Grassie, Ryan Lamb, Matthew Gaunt, David Hutchison, Nicky O'Donnell, Chris Marshall, Jordan Lock, Chris Graham, Ciaran McGuire, Michael Osborne, Liam O'Donnell, Sean Hay, Craig Lamb.
●●●●●●●●●●●●
BLUE Brazil Boys Club U15s have had a great run in the last few weeks taking them to the top of the Fife League going five points clear. They beat Oakley away from home 3-2, goals coming from Lee Reid and Connor Farmer. Then they won at home to Rothes Juniors 3 - 2 with goals from Kevin Drummond, Lee Reid and Dale Allan. Blue Brazil's last game was played away to Kennoway and in blustery conditions Blue Brazil came away with an excellent result winning 5 - 1, the goals were scored by Lewis Wishart, Kevin Drummond, Scott Murray, Dale Allan and David Byrnes. Blue Brazil play
St John from Kirkcaldy in their next match at home.


●●●●●●●●●●●●
EDINBURGH City Colts were the visitors to play Edina Hibs BC in the 3rd-round tie in the Under 16 Jackie Faichney Memorial Cup at the Jewel and what a cracking game it was, writes STUART DALZIEL. City had the better of the opening period and found themselves 2-0 after seven minutes with both goals coming from Robbie Brown. Edina Hibs clawed their way back into the game and Keerin Davie hit the back of the net with a long range effort over the head of City keeper, Andy McQueen. Both teams went at each other at a furious pace and the game was well handled by referee Bill Crombie. As normal time neared the end Darryn Hlabangana punished some slack City defending to force the game into extra time. City had the better of the final period and came close through Ryan Murrell but it was James Davidson who put Edinburgh City into the next round in the dying seconds with a superb right foot shot high into the top corner and send the City touchline into ecstasy.

Edina Hibs BC - Ged Ellison, Barry Gilgun, Jason Watson, Darren Keenan, Ryan Park, Arran Ponton, Darren Thomson, Leith McKenzie, Keerin Davie,
Liam MacPherson, Christopher Reid, Joel Dickie, Darryn Hlabangana, Craig Cuthbertson

Edinburgh City - Andy McQueen, Ross Cowan, John Turner, William Dalziel, Daryl Leslie, Iain Cowan, Callum McDonald, Ross Munro, James Davidson,
Robbie Brown, Jason Kydd, Joe Bickmore, Sammy El-Mansi, Ryan Murell, Aarron Miller

Referee - Bill Crombie.
●●●●●●●●●●●●
HUTCHISON Vale pulled a master stroke in having Hibs new boss, John Collins, as their guest of honor at their club presentation night in the Hibs suite. The popular young manager - he looks as fit now as when he played football - added to the glamour of the occasion by bringing along his wife, Susan, and their three kids, Julia (14), Hanna (11) and John jnr (7). This was a 'hands-on' job for John, as he spoke at length to all the young players in the huge function suite at Easter Road, giving them valuable advice to the future and the effort they all need to put in if they want to go on and become professional players. But Vale had a surprise lined up for their guest of honor, a belated 5-year certificate dating back to the time when he played for Hutchison Vale. There was also a bouquet of flowers for Mrs Collins and gifts of toys for the three lovely young kids. But this was a night when all the stars came out to give the presentation night a special sparkle. Hibs duo, Steven Whittaker and Kevin Thomson were there, along with a host of other top players - all former Hutchie stars - such as Andrew Driver (Hearts), Liam Fox (Livingston), Ian Murray (Rangers) and Allan Walker (Livingston). What a night it was for the Vale players, hundreds of them, as they came up to accept their awards, with all the professional players taking part. A total of 15 teams were paraded to give each of the players their moment of glory, while other club members were presented with 5 and 10-year awards and and other special presentations, with the highlight coming when club leader, Tam Smith, was presented with his 20-year award by John Collins. That, indeed, brought the biggest and most prolonged applause of the night.
Omar Ali was presented with his 10-year award and 5-year awards went to Darren Clifford, Connor McGregor, Lewis Ross, Lewis Miller, Keith Buckley, Connor Pont, Michael Langdale, Rory Macarthur, Martin Cruickshank, Liam Day, Dean Thornhill, Pam Quin, Lisa Cosens, Lissa McIntyre and Anna Donald.
This massive football club operate from an old wooden building in Ford's Road in Stenhouse. The club was formed in 1940 and it has produced an almost non-stop supply of players to professional clubs. Hopefully, the ongoing campaign to get better facilities for grass-roots football clubs in the Capital will result in a massive East Football Project being built in Saughton Park. If and when that comes about, Hutchison Vale and all other clubs within the community will be able to share modern, clean, hygienic and civilsed facilities for football. If Hutchison Vale had the same facilities as have been built at Meggetland for Boroughmuir Rugby Club - from money raised by the sell-off of public owned ground to a housing developer - they would by now be playing in the Scottish leagues at professional level! And they, and other huge youth football clubs in Edinburgh, deserve the same treatment from politicians as has been given to a private rugby club at Meggetland.
BY IAN MACKAY
●●●●●●●●●●●●
The massive photoshoot was a sublime moment in time for this Capital youth organisation, but it did not last for long, with six of the Edinburgh City teams in action at Sighthill Public Park the following day, where they hosted other prominent clubs such as Salvesen, Bonnyrigg Rose, Hutchison Vale, Musselburgh Windsor, Tynecastle and Currie Star. All 12 teams - and six referees on duty at Sighthill - were forced to use the God awful facilities that masquerade as 'changingrooms' at this poorly maintained public park. The view of the outside of the buildings is shocking and the inside is no better. There are signs up saying the water on tap is not suitable to drink. The toilets are ghastly and the showers . . . well, you would have to see them for yourself to appreciate how bad they are! How sad it was to see young footballers in the Capital city of Scotland come off muddy pitches caked in glaur, collecting their clothes and then getting in to their respective parents cars - still covered in mud! Such was my concern at the state of things for these young people and the hundreds of spectators that were at Sighthill, that I stayed throughout the day and reported on two of the games, with details of all four other fixtures that took place. There is nowhere to even get a cup of tea at this place and I certainly had no intention of using the 'toilets'! On the biggest to the five pitches at Sighthill - one of the others was ruled out of action as bonfire had made it unplayable - the Edinburgh City Colts under-16s and Bonnnyrigg Rose sides produced a great game to watch with the points shared in a 1-1 draw. The visiting side, who had asked City to host the game as the pitches at Bonnyrigg were unplayable, started off as if they were going to give the home side a hammering. The Colts defenders were put under tremendous pressure in the first half but Bonnyrigg only managed to score one goal and that came midway through the first half when Michael Napier managed to break clear on the left of the 18yd box and his low shot went across the face of the Colts goal before going in the net off the inside of the post. After surviving a pounding from Bonnyrigg, the Colts got their game together and started playing passes and the game swung in favour of the home side with a terrific equaliser coming in the 33rd minute. The goal came after some wonderful saves from Lowson in the Bonnyrigg goal, but even he could not prevent Jason Kydd firing the ball in to the net after great play on the left to make it 1-1 at the break. . Colts went close to scoring an equaliser, but Bonnyrigg keeper, Euan Lowson, cleared the danger in the crowded goalmouth when punching the ball clear. It was a great end to the first half, with Colts having got themselves back in to contention. Playing with the wind in their favour in the second half, Colts had the bulk of play but they, this time, failed to find the back of the net, with the Bonnyrigg rearguard somehow keeping their goal intact despite some amazing goalmouth scrambles. It was freezing cold, but it was a wonderful game to watch, marked by good behavour from both sets of players and officials. In the under-14 clash between Edinburgh City Colts and Currie Star, it ended in a 0-0 draw, but the crack Edinburgh City under-14s handed out an 11-0 hammering to the luckless Tynecastle Colts outfit. Greg Murray scored four goals for the winners, with the talened striker Tinashe Mukunbwa getting a hat-trick. Liam Airley and Jordan Low (2) were others on target for City. The biggest roar on Sunday morning at Sighthill came in the very last minute of the under-14 clash between another of the 27 teams in the Edinburgh City set-up and Salvesen. City got the winner in this fantstic game when Chris Graham found the back of the Salvesen net from a 'controversial' free kick - and there was no time for the game to be restarted as Graham's spectacular winner this was the very last kick of the ball! What a dramatic finish to a game and the award of the free-kick did not endear the match official to some parents in the Salvesen contingent! The top game of the afternoon, featured Edinburgh City Colts under-15s and a very good Musselburgh Windsor side. This game was a top-class display of football in the freezing wind with the East Lothian outfit running out 4-1 winners. The pace, passing and movement from both teams were a credit to the respective coaches, with Windsor living up to their reputation as one of the top clubs in Eastern Region Youth FA circles. Colts found themselves 2-0 down in the first five minutes, Danny Coll getting the first for Windsor, followed by a great hook shot over his shoulder in the crowded goalmouth by Mark Miller past City keeper, Andrew Turnbull. It took great defeding by the Colts rearguard to keep the score the same at the halfway stage. On the restart, a bouyant home side took the game to Windsor and they deservedly reduced the deficit to 2-1 with a goal from Stuart Ogilvie, his shot spinning off a Windsor defender before spiralling up in to the air and over the outstrethched arms of goalie, Kyle Rankin. But that goal served as a wake-up call to the visiting side and they went on to restore their two-goal advantage with Rankin showing great individual skill before firing the ball in the Colts net to make it 3-1. The final goal, the best of the game, came from a tremendous strike by Craig 'Dinger' Bell and the Colts keeper never had any chance of stopping the ball as it hurtled past him in to the net from outside the 18yd box. Once again, this game was marked by wonderful sporting behaviour from both teams, culminating in the line-up of players to shake hands with each other. The last game to finish at Sighthill ended in a deserved 3-1 win for the good visiting Fernieside under-15s against Edinburgh City, believe it or not! The well-coached team from Gilmerton looked the better side on the day and they carried far more threat when on the attack that their good opponents. Lee Hunter scored both Fernieside goals in the first half to give his side a 2-0 lead at the break and Blair Jeffrey made it 3-0 with a great header in the second period to put the game beyond the home side. But the good passing Edinburgh City outfit kept battling away and they reduced the deficit to 3-1 before the final whistle from a wonderul free-kick taken by Charlie McKenzie, who sent the ball over the Fernieside wall and in to the corner of the net. This game was another excellent advert for youth club football with another perfect finish provided by both sets of players shaking hands with each other.
●●●●●●●●●●●●
TEAMS from Tynecastle FC youth club had a real 'field day' at the weekend on the two pitches they lease from Edinburgh City Council at Saughton Park and, astonishingly, pay for the upkeep themselves! Finding good playing surfaces in the Capital is an ongoing problem for community-based football clubs with around 20,000 young people playing football every week throughout the season at venues throughout Edinburgh and the Lothians. Tynecastle FC, to their credit, have tackled the problem head-on and they now pay a private contractor to look after the grass-cutting and maintainance of the two pitches they use at Saughton Park. Club spokesman, Douglas Dalgleish, said: "It is worth it to give our teams good playing surfaces to use. But we pay for it ourselves out of club funds which, essentially, are the kids money!" In order to use these two pitches, volunteers have to carry the heavy assembled goals and nets around 150yd from the storage containers at the main pavilion in Saughton Park to the pitch. I wonder if the people who do this in order to provide good facilities for the club teams to play on realise they are not covered insurance wise if any one of them is injured? In public-owned facilities, this work should be done by properly insured council employees, not volunteers. That is the background, however, to one of the biggest and best-run community-based football clubs in the city and huge numbers of players, club officials and spectators are out every week to watch games - with the nearest toilet facilities in the main block at the other end of the park. On Sunday morning, Tynecastle FC under-12 staged a brilliant recovery after trailing 2-0 at the halfway stage to scored three second half goals and beat Hutchison Vale 3-2 in a super game of football. Jason Cummings scored both goals for Vale, while Jamie Pearce, Alexander Wyper and Jak Townsley were on the mark for a jubilant Tynecastle outfit. It was a stirring fightback to thrill their fans on the touchlines. That game was followed by an all Tynecastle cup clash in the under-14 age group and it with the score 1-1 between Tynecastle FC and Tynecastle FC Colts at the finish, the tie went in to extra time and it took an own-goal from the Colts in the last minute to clinch a 2-1 victory for Tynecastle FC. It was the Colts who had taken an early 1-0 lead with a goal from Andy Jones, but Tynecastle FC levelled the score at 1-1 with a goal from Craig Healey. The third game to take place on Sunday morning ended with the talented Tynecastle FC under-13s beating a very good Leith Athletic outfit 5-0. This was a terrifice wee game of football with play surging back and forth on the big, flat, well-maintained pitch. The home side always looked to have the edge on the visiting combine from Leith and after tremendous action in both goalmouths, it was Tynecastle that broke the deadlock with a goal from the lively Jamie Forsyth to make it 1-0 at the half-way stage. In the second half, the game really opened up with Tynecastle the more dominant side. Forsyth set up Daryl McLaren to score a second goal for the home side and Forsyth took the scoreline to 3-0 when he knocked the ball over the Leith goal-line after great work on the right from Ross McNaughton. With the Leith goal under almost constant pressure, Tynecastle went on to make it 4-0 with a cracking goal from Callum Paterson and the same player was on target again before the finish to complete a nap hand for the home side. While these were the three featured games at Saughton Park on Sunday morning, other matches were taken place throughout the park in another example of the popularity of football among young people. Sadly, this does not appear to influence politicians and the Scottish Football Association in the provision of modern, clean, hygienic and civilised facilities. The clubs provide and pay for these themselves!
●●●●●●●●●●●●
DESPITE an overnight downpour, Pinkie Playing Fields were in decent shape for Musselburgh Windsor's third-round Scottish Cup tie against Glenrothes Strollers and a sizeable crurowd turned up in anticipation of a closely contested match. Although the standard of football never quite reached the level expected, it was nevertheless, an enthralling cup-tie. Windsor gave home debuts to three new signings, Craig Edwards, Ricky Miller and Bobby Gay and all three can be very happy with their performance, so much so, that all three were in the running for the man-of-the-match award. The home side started at a very high tempo and immediately took the match to their opponents, who had yet to taste defeat this season, and there was little doubt the importance of the match had not been lost on the eager Windsor lads, and it was no surprise when their continual attacking play resulted in the opening goal inside the first fifteen minutes. Darren Flynn and Mark Moncrieff linked up well to create an opening, and from eight yards Flynn made no mistake with a low strike that beat the keeper at his near post, the celebrations that followed were an indication on how much this tournament meant to the home outfit. Ten minutes later as the Windsor surged forward, a through ball into the visitors box saw Moncrieff and the keeper challenge for the ball and although the keeper was to avert the danger he was unfortunate enough to pick up a nasty head knock, and he took no further part in the match. This incident, which in no way can see any blame attached to the home player, seemed to affect the remainder of the half as both sides got bogged down in a dour midfield battle that saw the match through to the interval. Glenrothes had created only one chance of note throughout the half and that was from a corner that produced a magnificent save from Stevie Greens in the home goal. The second half began with the Windsor again on the offensive, but a lack of composure in front of goal saw several decent chances go astray, Glenrothes seemed to take heart from the home sides inability to kill the game off and started to push forward in an attempt to level the match, but they were to meet the stern resistance of a solid Windsor backline, who were determined to keep their opponents at bay, but as is always the case, a single goal lead is always a precarious lead to defend, and Glenrothes must have thought, that midway through the second half their opportunity had arrived to level the match when the home keeper brought down the visitors striker and the referee immediately pointed to the spot, there could be little argument with the officials decision, but the Windsor keeper pulled off a tremendous stop from the spot-kick. The penalty save spurred on the home side and ten minutes later they doubled their advantage when Flynn collected a ball from the right ten yards out and with great composure sent his shot into the bottom corner of the net. Windsor lifted the pace of the game, and within five minutes they scored the clincher, when Lewis Mein picked the ball up wide right in midfield, charged forward evading two tackles and played a high ball into the box, his cross deceived everyone and found the net at the near post to complete the scoring. Man of the Match award goes to Michael Fruish for his neat and tidy support play in the middle of the park.
Windsor Line-Up - Greens, Miller, Anderson, Edwards, Mein (Montgomery), Fruish, Curran (Taylor), Gay, Stewart (Stevenson), Flynn, Moncrieff (Smith). Subs. Smith, Stevenson, Taylor, Montgomery.
●●●●●●●●●●●●
BLUE Brazil U15s trounced Rothes Utd in their league and came away with an excellent 10 2 result. The game was played in windy conditions but it was
Blue Brazil that got to grips with the game and they went into a deserved lead the goal coming from a fine
move finished by Connor Farmer. Rothes however went straight up the park and levelled. This spurred Blue Brazil on and three goals came in quick succession scored by Sam Barras, Dale Allan and Kevin Drummond. Rothes scored their second goal, but Blue Brazil went on to score two more goals from Connor Farmer and Ross McGowan to lead 6-2 at the break. In the second period, Blue Brazil took the game to Rothes and the pressure paid off when Sam Barras finished off a set piece and
Blair Grubb added another with fine individual play. Further goals from Blair Smart and Kevin Drummond completed a miserable day for Rothes.
●●●●●●●●●●●●
Bathgate Academy's U13s are run by nicky.grant and
jamie.connelly@wled.org.uk. Please pass this on to relevant people
if necessary. Thanks.
Brian, the U13s have a match today Wed 8th, so they can't manage
Fri also. Carron Gault
●●●●●●●●●●●●
Scottish U15s Shield round 2 – Newbattle vs Firrhill
Easthouses was the venue for the re-scheduled U15s Scottish shield tie between Newbattle and Firrhill, and a beautiful morning and a good playing surface produced ideal conditions for a classic cup tie. The first goal was scored early in the game by Firrhill after Newbattle's defence switched off – Stuart Ogilvie being first to take advantage of a mistake at the back by Newbattle. Firrhill continued to dominate for much of the first half but were caught napping when Ewan Wilson managed to open up the Firrhill defence and score an equaliser right before time.
Both sides showed great determination after the re-start, with some careless challenges put in by players of both sides. In a hectic period of the game it was Newbattle who were first to score again, Stuart Runciman taking advantage of confusion at the back of Firrhill's defence to strike a low shot into the bottom right corner. With both sides struggling to keep their discipline Newbattle were able to snatch another goal through Ross Waters leaving the tie seemingly over. However Firrhill showed great character to reply within thirty seconds, a simple string of passes ending with Kerr Rourke knocking in from close range. With Firrhill dominating play, Rourke's well-placed free kick crashed off the crossbar, only for the same payer to score from a tremendous volley just seconds later. But with the tie at 3-3 and extra –time looming, disaster struck for Firrhill when Ali Adams found space in the box to smash home a winning goal for NB.
The 80 minutes at Easthouses produced a very hard-fought game – and despite many minor niggles, and being a little scrappy in some parts, also delivered some periods of lovely flowing football by both sides. Both sets of players deserve great credit for taking part in such an enjoyable game to watch, but it will be Newbattle who go on to play away to Queensferry HS in the next round.
●●●●●●●●●●●●
EDINBURGH City Colts welcomed Currie Star to a windy Sighthill Park for their second round tie in the Jackie Faichney Cup, writes STUART DALZIEL and
it turned out to be a hard-fought match for both teams with the heavy pitch and blustery conditions. With the wind in their favour, Currie had the best of the opening minutes and put City under a lot of pressure with high balls into the box. Recent signing Martin Pyper as stand in goalkeeper for the Colts had to look lively on a few occaisions. As the game progressed City got back into it and started to play the better football. Good footwork from Jason Kydd inside the box nearly opened the scoring but his shot went just wide of the post. A long ball from the Colts midfield over the Currie defence died in the wind and dropped at the feet of James Davidson. He controlled the ball well but his shot drifted just wide. In the 19th minute, after a City corner the Currie goalie was judged to have pushed Davidson in the box and the ref awarded a penalty. Davidson stepped up to take the kick himself and drilled it home in the left hand corner giving the keeper no chance. The game flowed from end to end with both teams giving their all and Currie equalised in the 33rd minute with a brilliant individual effort from Nawaf Abudawood who turned two City defenders and finished brilliantly to make it 1-1 at the break. At the start of the second half, City had the wind in their favour and pushed forward and won corner after corner. One excellent corner from Iain Cowan helped by the wind dropped on the crossbar and minutes later Currie cleared another net-bound shot off the goal-line. The best chance off the second half went to City. Iain Cowan put a pass through to Davidson who was having a great game but his shot went just wide of the post despite the effort of Jason Kydd who made it but could not divert it into the goalmouth. City made things more comfortable for themselves when Kydd netted the second fter some good individual play in the box and the City touchline were able to relax as time ran out for Currie to make a comeback. This was a good cup tie
to watch with both teams getting stuck in. Notable City performances came from James Davidson, John Turner, Iain Cowan and also from Martin Pyper, who stepped in as goalkeeper.

Edinburgh City - Martin Pyper, Ross Cowan, John Turner, William Dalziel, Iain Cowan, Callum McDonald, Ross Munro, James Davidson, Robbie Brown, Jason Kydd, Ryan Murrell, Aaron Miller, Ryan Telfer, Joe Bickmore, Sammy El-Mansi, Stuart Gibb

Currie Star - Sean Ormand, Sam Saddler, Daniel Davidson, Richard Whyte, Graeme McLarty, Alan Smith, Fin Glanvill, Logan Russell, Graham Horsman,
Nawaf Abudawood, Scott Carson, Greg Jarvie, Del Mason, Neil Tait, Scott Nicholls, Steven Walsh.

*Edinburgh City Colts take on Dalkeith Ladies women's team at Saughton Astroturf at 8.00pm on Wednesday, in a fund-raiser for a trip to the Continent at Easter, 2007.

●●●●●●●●●●●●
CRAIGMOUNT High School under-13s carried out football's equivalent of the 'big steal'
when they beat home side Currie High 1-0 in a top-of-the-table clash in the Edinburgh Secondard School FA. It took an incredible display from the Craigmount defence and a great keeper keeper in Jamie Cleland to keep their goal intact. They also had more than their fair share on luck on their side in this smash-and-grab raid on the Currie school. But it was the home side's own fault that they lost their first game of the season as their strikers had a nightmare in front of goal. On any other day, David Aitken could have scored a hat-trick but on this occasion he was firing blanks, time after time, from good positions. But it was brilliant to watch this game, particuarly so after Mark Keegan fired Craigmount in front in the first half when he followed up in a goalmouth scramble to knock the ball past Currie keeper Scott Taylor to make it 1-0. I don't think anyone on the touchlines thought that would be the only goal of the game at this stage! But it was and Keegan's strike proved to be enough to secure all three points for the unbeaten Craigmount combine. To say Currie did everything but score in the second would be an understatement. The Craigmount defence was all over the place at times but they somehow managed to prevent Currie scoring the goal they so richly deserved. But the young home players found to their cost in this game that there is, indeed, no justice in football. Shots rained in on Cleland, some hitting the posts and the crossbar, but Craigmount survived and their jubilation at the finish was a sign of their pleasure at virtually 'getting out of jail'! How did they manage to beat Currie? Hard work, good organisation, massive luck and good goalkeeping, all played a part in a very sporting game of football between two good young football sides. And Currie, well they should just put it down to another curve in the education cycle of learning the game. There are some games that they will never win, such as this one! It was, however, a very sore defeat for them and their terrific young coach, Scott Ferrier. You win some . . . and you lose some and there is nothing that anyone can do about that!
Currie HS - Scott Taylor, Craig Sutherland, Sam McNab, Euan Rodgers, Fergus Lockhart, Owen Brady, Lewis Campbell, Chris Nairn, Sean Higgins, David Aitken, Craig Rennie, Craig Moffat, Scott Downie, Nathan Leicester, Callum Lindsay.
Craigmount HS - Jamie Cleland, Marcus Brown, Callum McManus, Chris Deignon, Jamie Donald, Mark Reeves, Nyle Small-Milan, Craig Newall, Mark Keegan, Connor Berry, Glen Parker, Jack Beaumont, Daniel Notman, Adam Scott, Scott McLeod.
●●●●●●●●●●●●
ANOTHER exceptional weekend of minor-grade football
included a glaring example in the the vast difference between the 'rich and the poor' in terms of elitism in Edinburgh, from the immaculate playing fields and wealth of facilities at Peffermill, the sports ground for Edinburgh University, to the poorly maintained council-owned facilites at Campbell Park, Kingsknowe and Harrison Park! The featured game at Peffermill on Saturday was the Central Amateur League clash between Spartans FC and Kilsyth, while the other beautifully cared for pitches were being used by other amateur sides. It was a brilliant explosion of amateur football and the top-quality playing surfaces added to the sense that these games were, indeed, taking place in a city proud of its young footballers. Nothing could be further from the truth, however! Only those who can afford to pay the high charges at Peffermill get to use the facilities and they are provided with all the modern and civilised facilites they want and desire in return. Fast forward to Sunday and my abortive trip to Campbell Park in Colinton to see Pentland Panthers in action. The pitch, for want of a better expression, looked in good condition - again, according to the standards that appear to be acceptable to politicians in this city - but officials at Edinburgh Leisure had, apparently, said it was unplayable - on Friday! These officials have been carrying out this ridiculous policy of declaring pitches unplayable for years and years and it is a further example, if any is needed, thay they (officials) cannot trust minor-grade football club officials to decide for themselves whether or not a pitch is playable. It is gross in the extreme for people based in plush offices at Waterloo Place to carry out this particularly overbearing nonsense. With no game to cover at Campbell Park, I then moved on to Kingsknowe to see a quite wonderful wee game of football between Currie Star and Hutchison Vale Colts at under-13 level and the grass on the pitch had not been cut, in fact it was ankle high in some places. Currie Star are working wonders in running a community-based club for hundreds of young people and, due to the commitment of men and women volunteers, refreshments are available in the grim and ancient wooden building they use as a base. All the people involved with Currie Star deserve better than this, however. This club have the best possible ethos in their ongoing work with young people but the lack of investment from politicians over many years is evident for all to see. In the afternoon, I moved on to Harrison Park, to see two under-15 games featuring North Merchiston v Easthouses and North Merchiston Colts v AC Oxgangs. The players and coaches of all these sides had to use the facilities in North Merchiston Club in Watson Crescent, before they carry the goalposts, etc, about 100yd to the 'pitches' at Harrison Park. The pitches are, to put it mildly, nothing short of obscene in the Capital city of the so-called 'best small country in the world'! A path runs through both pitches and the surface of both areas marked out are, to put it mildly, rough and bumpy. North Merchsion beat Easthouses on the small pitch(?) near the canal, while AC Oxgangs produced a breathtaking recovery from being 3-0 down to beat North Merchiston Colts 4-3 in their epic encounter on the big pitch(?) at Harrison Park. All the people in the park had no toilet facilities or anything else to use, no changingrooms for the kids to use or anything else that you could, possibly, expect in a modern country such as ours is! AC Oxgangs are currently playing their 'home' games at Sighthill while work takes place at Colinton Mains Park. Oxgangs spokesman, David McGowan, speaking about Sighthill, said: "It is embarrassing for me when teams from out of town come to play us at Sighthill Park. The changingrooms are a disgrace and the pitches are poor, too!" Compare these facilities with the glorious sports fields at Peffermill and also at Heriot-Watt University?
This Sunday, all minor-grade football clubs have the chance to take a huge step forward and send representatives to a Unite the Clubs meeting in the Prison Officers Social Club in Longstone (7.00pm) to hear for themselves about the proposed Protest March to the City Chambers and the Scotish Parliament at Holyrood. This march is planned for Wednesday, February 14, 2007 and it will start in Kings Stables Road, before moving on to Lothian Road, Princes Street, the Mound, Bank Street before halting to present a petition at the City Chambers. From there, the marchers will then proceed down the High Street to the Scottish Parliament Building where another petition will be handed over to politicians. The purpose of this march is to demonstrate to politicians who have over many, many years deliberately and systematically denied young people in Edinburgh and Scotland of proper funding for their communtiy based football clubs and also in providing modern, civilised, clean and hygienic facilities for football, that urgent action is required. All our young people have, and are being, denied their legal share of funding for football. Our community-based football clubs have to use the most basic facilities possible - and pay dearly for them in the process! Everyone who cares about the future of their respective clubs and also for others, can make this march a non-political expression of the will of the people that 'enough is enough' and demand instant action to right the wrong. It is on behalf of all young people, not just the elite and favoured! Everyone interested in taking part is asked to contact the organiser, Les Trotter, by email on lesflotrotter@hotmail.com. On his behalf, I invite everyone involved in minor-grade football - schools, girls, women, youth and amateur clubs - to support him and our hugely disadvantaged community-based football clubs. An alternative to the email contact is to ring 539 0315 for further details.
●●●●●●●●●●●●
YOUNG Scottish internationalist, David Gray, is in the Manchester United squad for the CIS Cup away tie against Crewe. Manchester's Scottish scout, Andy Perry, said: "David has made great progress since going down to Old Trafford when he turned 16 years of age. He is now 18 and the youngster from Roslin is playing really well in his role as a right wingback. He has also been a star in this season's Scottish under-19 side and Sir Alex Ferguson hopes to give David his first-team debut at Crewe!"
●●●●●●●●●●●●
YOUTH football clubs across Midlothian are to benefit from free training tops for their players. Hibs international star, Scott Brown, joined Midlothian Council leader, Adam Montgomery, in launching the initiative and presented the first set of tops to young players from Dalkeith Boys Club. A total of 79 teams are set to receive the training tops thanks to a grant from the Local Action Fund, which is administered by Midlothian Community Safety Partnership. The funding application was co-ordinated by Midlothian Council football development officer, Keith Wright, whose work includes developing opportunities for local clubs. Chair of the Midlothian Community Safety Executive, Cllr Montgomery, said: "This initiative will encourage young people to engage in a positive and healthy activity. Last year another successful Midlothian project launched by National team manager Walter Smith provided clubs with agility training equipment. These kinds of initiatives are vital to allow for a sustained interest in sport amongst young people." Scott Brown added: "It is great that Midlothian Council is helping out with funding kit for clubs. It will help players to feel good about themselves and add to their team spirit. As it increases youngsters' pride in taking part, hopefully this will also transfer into winning ways on the pitch."
Jordan Glennie (12) received his new training top at the launch. He said: "I like the tops, they're really smart. I will definitely be wearing mine and it'll help us look more like a team."
Photocaption
Photocaption (L to R): Dalkeith Boys Club players Jordan Glennie (12), Liam McCathie (11), Nicholas Munro (12) and Mark Lawrie (12) were delighted to receive new training tops from the Council's Community Safety officer Tracy Millar, Cllr Montgomery and football star Scott Brown.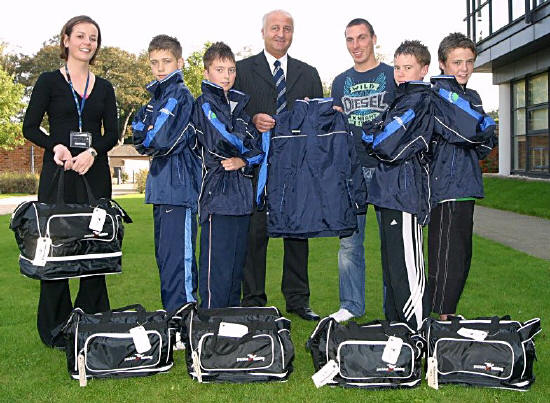 ●●●●●●●●●●●●
EDINBURGH City Colts (Under-16s) are putting themselves in the firing line next month when they take on
Dalkeith Ladies WFC in a fund-raiser for a trip to Europe in Easter, 2007. The game will take place on the Astroturf at Saughton Sports Comples on Wednesday, November 15, with an 8.00pm start. Colts coach, Julie Dalziel, a former Northern Ireland international star, will be facing her own side as a guest for the Dalkeith outfit, while her son, Willie, is a central defender in the Colts line-up. The meeting of mother and son in a football game should add a certain 'bite' to the game. The women's squad is managed by Maggie Wilson and they play in the Scottish Womens Second Division and consist of some 'older' (more experienced) players! The spokesman for the Colts said: "We are holding the game as a different way of trying to generate some funds towards our trip to Amsterdam next Easter weekend to compete in the Tulip Trophy. Maggie and her team have been very kind in offering to play against us as a personal favour to Julie. All Edinburgh City players will have a sponsor sheet and try and raise a minimum £20 'signing on fee' to compete in the game and all the boys are looking forward to it. Under the leadership of Jim Brown, Edinburgh City Colts are a well run and well supported team with most parents taking an active role in the boys development and encouraging a positive attitude to sport and social development. The match kicks off at 8.30pm and will finish at 10.00pm and Maggie and her team are a great bunch of girls and really good friends of Julie. It should be a good game, with our youth and pace against the experience of the more 'mature' players and also breaking down the barriers between men and womens football!"
●●●●●●●●●●●●
*I invite all councillors and other politicians to join with me on Saturday, December 2, at Warriston Playing Fields to see hundreds of young primary school footballers take part in cup games at this famous sports venue. Councillors are asked to bring with them towels and washing up equipment to sample the 'delights' of the appalling indoor facilites for themselves. Bonnyrigg Snooker Club owner, Mike Leslie, whose son plays for a youth football club in Edinburgh, has issued this challenge and if any councillors take it up, the Midlothian parent and businessman will donate £50 to a charity. Other business people who share the same views as Mike Leslie, can offer to join this public demonstration in support of young people by also donating a small sum to charity if the councillors turn up, that is! All names of those taking an active part in this demonstration of support for young people and their legal right to have top-class facilities for sport, will be published along with photographs.
●●●●●●●●●●●●
EDINA Hibs Boys Club staged their own version of 'Super Sunday' with four of their teams in action at the Jewel in east Edinburgh, two games taking place in the morning followed by two others in the afternoon. In addition, a Sunday Amateur league game was also played at the Jewel along with soccer sevens games for the younger age groups. All in all, it was a fantastic show by a club that only survives due to the very hard work and commitment from a group of totally dedicated volunteers. Hundreds of people, both young and old, were to be seen at the Jewel, with not a politician or one of the highly-paid officials in the massive administration in this city to be seen - once again! It is all just talk and no action when these people speak about child obesity and other problems with young people, in the case of Edina Hibs the real work is done by the group of volunteers who have virtually brought new life to this famous Edinburgh nursery football club. Former Hibs star, David Fellenger, was just one of the spectators at the under-13 cup clash between the unbeaten Edina Hibs combine and their guests from East Lothian, Preston Athletic. The visiting side set out their stall from the start of this game, with up to seven players in defence! Fellenger said: "What is that all about in an under-13 game. Everybody back behind the ball to stop Edina scoring. It is hardly the way to enjoy playing football?" Preston Athletic's tactics were, however, effective in keeping the score down. Edina ran out 5-0 winners but they were so far ahead of the opposition, that the game was more or less played throughout in the Preston half, before and after the half-time break. Preston did everything in their power to stop the Edina boys giving them a real hammering, so I suppose their tactics were justified. It took until the 19th minute before the home side made the breakthrough they deserved, with David Easton firing the ball past a very good young Preston goalkeeper, Kieran Beveridge. Having broken through, Edina went on to make it 3-0 at the halfway stage with further goals from Beveridge (again) from a cross from Andy Keighren, then a piledriver of a shot from 16yd from Josh Riddell. In an almost non-stop barrange on the Preston goal, the home side were limited to two more goals by a very detemined display from the Preston defenders. Haydn Crane made it 4-0 after great work by Liam Fellenger and Crane made it 5-0 with a terrific shot high in to the roof of the net before the finish. Edina go on to play a very good Tynecastle FC side this Sunday in what should be a great game of football between two sides committed to attack in the Belmont Vauxhall Cup, at the Jewel at 11.00am. That is sure to draw out a huge crowd, with politicians and highly-paid officials welcome to attend, too, They can see for themselves what Edina Hibs do for their young players.
Edina Hibs - Kyle Hannal, Josh Riddell, Dylan Yardley, Ross Dickson, Declan Fergus, Reece Donaldson, Sean McPherson, Jake Stevenson, Scott Main, Aaron Blues, David Easton, Andy Keighren, Jaydn Crane, Shaun Meikle, Liam Fellenger, Kerr McLernon.
Preston Athletic - Kieran Beveridge, Paul Waugh, Reece Cochrane, Warren Fisher, Jade Reston, Conor Tully, Ben Cowan, Dale McCallan, Calvin Robertson, Liam Cook, Jamie Walker, Barry Redpath.
Referee - James (get on with it) Sim.
On another of the three pitches at the Jewel, the good young Edina Hibs under-14 side went down 4-1 to the high-flying Tynecastle East side in the City Financial Edinburgh Eastern Region Cup. While Ryan Stevenson scored the home side's goal, Gavin Pettigrew (2), Paul Fergie and Stuart Duncanson were on the mark for Tynecastle East in this game.
The non-stop action in what was a mini-festival of youth club football continued in the afternoon, with Edina Hibs under-16s inflicting a 4-2 defeat on the visting Dunbar United Colts side in a Lothian Buses League fixture. Jason Watson and Jamie McCaig each scored twice for the home side, while Darren Smith got both goals for Dunbar.
To complete a very good day's work by the Edina Hibs teams, their under-15 combine beat Inch Colts 3-1 in the John McConnel Memorial Cup. Adam Hunter, Craig Stenhouse and Calum Sheen scored the goals for Edina Hibs and Robbie Dickson was on target for Inch Colts.
●●●●●●●●●●●●
BLUE Brazil Boys Club played hosts to Broughty United in the 2nd round of Scottish Cup and came away with a 2-1 win. Blue Brazil started the more lively and this pressure paid off early on when Connor Farmer was sent clear and he gave the Broughty keeper no chance. Blue Brazil were well on top when with 10 minutes played their centre half was sent off and a penalty given to Broughty which they converted to make the score 1-1. Blue Brazil restructured their team and pushed for the winner halftime 1-1. The second period saw Blue Brazil taking the game to Broughty and this pressure paid off when Dale Allan found space in the box and drilled in the second goal. Blue Brazil were well in charge and only good goal keeping and the woodwork kept the score down final score 2-1. Blue Brazil would like to thank match sponsor www.sidey.com and the Woodside hotel for aftermatch refreshments.

●●●●●●●●●●●●
ESSDA Sponsorship Deal
Ian, I hope you are well. I have a request, ESSDA have tied up a deal with W.T.Dunbar Funeral Services. We will be arranging a cheque presentation, could you possibly give this some coverage in the local heroes, with a picture etc. I will pass on details when I have then. Kindest regards Davie Norris.
●●●●●●●●●●●●
BLUE Blue Brazil Boys Club U15s played host to Stathern Grove from Crieff in the 1st round of the Scottish Cup and recorded an excellent result. In a day
more suited for swimming, Blue Brazil rolled up their sleeves and got on with the job at hand From the kick-off Blue Brazil took the game to the visitors and this pressure paid off when Blair Grubb from 20yards out gave the Strathern keeper no chance. The second came shortly after when from a great passing move Connor Farmer slotted the ball home. Blue Brazil were well on top and number three came just before halftime again scored by Blair Grubb from close in. The second period saw Blue Brazil putting the visitors under more pressure and this paid off when Kevin Drummond finished off a set piece from close in. Number five followed shortly when Murray Sinclair found space giving the Strathern keeper no chance. Blue Brazil were well on top and number six came when Murray Sinclair ran on to a through ball and
blasted it past the visiting keeper. Blair Grubb completed his hat-rick scoring number seven and Kevin Drummond once more got on the scoresheet drilling home number eight. Blue Brazil did not let up and in the closing
minutes scored two more goals through Connor Farmer and Callum Spence. Blue Brazil Boys Club would like to thank Match Sponsor www.sidey.co.uk and Carlos & Jean from the Woodside Hotel for the aftermatch refreshments.
************************
BLUE Brazil Boys Club played Lomond Colts away and recorded an excellent 4-0 result. The game started with both teams trying to get on top. Blue Brazil looked the more dangerous and it was not long when they went in front from a great move down the left side saw Pat Robertson strike an unstoppable shot off the bar and there was Dale Allen to net the rebound. The second came shortly after when from a set-piece Ross McGowan rose above the Lomond defence giving their keeper no chance. The second period saw Blue Brazil pushing and Lomond defending and only good goal keeping kept the score line down. The third period was the same with Lomond on the back foot and Blue Brazil pushing. This pressure paid off and from another set piece Murray Sinclair headed number three. The fourth and final goal came when from a great passing move Scott Murray guided the ball beyond the Lomond keeper. This result has given Blue Brazil a well deserved boost for next weeks defence of the Scottish Youth Cup playing a 1st round tie against Strathern Grove from Crieff to be played at Venters Park 1.00pm kick-off.

************************
EDINBURGH City Colts under-14's coach, George Gaunt, barely had time to get over the shock of seeing his side knock the fancied Tynecastle FC outfit of the Dunfermline Building Society Scottish Cup when his young squad delivered another hammer blow to another of the more fancied clubs in the national event for youth football clubs. The stunned Colts coach said: "Would you believe the boys have done it again - they knocked another 1st Division side out a cup competition - the Willie Bauld Cup this time - beating the East Lothian outfit 3-2! I just can't believe what is happening at the moment and I couldn't be happier for the boys and their parents. No doubt, we will come crashing back down to earth sometime soon but if you can't enjoy the good times when they happen, what would be the point in it all!

In his match report, the ecstatic Colts coach added: "Following their shock win in the Scottish cup last weekend Edinburgh City Colts again found themselves up against first division opposition in the Willie Bauld Cup. They travelled to the fabulous Hallhill facility to try their luck against Dunbar Colts. Just when we thought we'd had our shock result for the season, the boys went out anddid it again - pulling off another remarkable result. Quite where they are getting these performances from, I do not know! I don't think anyone could have seen this result coming especially with the way that we started the game. Our first-half performance was, quite frankly, rotten – we just never got going. We were second to every ball, didn't mark our men and were generally unrecognisable from the team of last week. However, we still managed to snatch the lead when on 15 minutes, Chris Graham hit another of his unstoppable free kicks, from all of 25 yards high into the corner of the net. It was a fantastic goal and the Dunbar goalie had no chance of stopping the ball.

Dunbar came right back at us and had it not been for some great saves from Adam Moore we could easily have found ourselves a few goals behind. As it was, it took Dunbar until the 30th minute to get the equaliser and it came as a result of some poor defending from Edinburgh City. A cross into the box was not cleared and the Dunbar forward found himself unmarked at the back post for an easy tap in.

Despite Dunbar's pressure, Edinburgh City managed to get to half time with the score still tied at 1-1. But after a few words of 'advice and encouragment', Colts were a totally different team in the second half - full of energy andself belief. They battled for everything and never gave Dunbar any time on the ball. We looked the more likely team to score and on 45 minutes David Hutchison duly obliged. A great pass through the middle was picked up by David who dribbled past the central defender and then rounded the goalie to calmly slot the ball away for a great goal.

Their lead only lasted seven minutes however, as a Dunbar forward raced onto a long ball through the middle to hit a low shot into the corner of the net past the helpless Moore. It should have been a devastating blow for the boys but they were having none of it, they just shrugged it of and took the game right back to Dunbar. In the 60th minute, 'man of the match, Chris Marshall sent a great ball down the right for the superb Alan Reid to ghost past their defender and cut the ball back for David. The outcome was never in doubt as David connected superbly to smash the ball high into the back of the net. The 30 or so family and friends who had travelled down the A1 to this fantastic facility could scarcely believe what they were seeing. There was a lot of nail biting in the final few minutes but the boys once again stood firm and completed what has been an unbelievable week for the Edinburgh City Colts."

Edinburgh City Colts - Adam Moore, Terry Quinn, Marc McKeating, Alan Reid, Ross Grassie, Ryan Lamb, Matthew Gaunt, David Hutchison, Nicky O'Donnell, Chris Marshall, Sean Hay, Chris Graham, Ciaran McQuire, Liam O'Donell.
**********************
TWO of the top youth teams in Fife were in action against each other and it was Blue Brazil Boys Club U15s who came out on top in their clash with Cairneyhill when running out 3-1 winners. Peter Drummond, in his match report, said: "The game started in a lively fashion with both teams competing for every ball. Blue Brazil started to get the upper hand when from a breakaway
Cairneyhill scored. Blue Brazil took the game to Cairneyhill and it was not long before Dale Allan gave the opposition keeper no chance when scoring the equaliser. The second period saw Blue Brazil pressing and Cairneyhill defending. The pressure paid off when, from a set-piece, Kevin Drummond found space at the
back post to head in the second goal. Cairneyhill were put under pressure and defended well, however the third and decisive goal came in the third period when Dale Allan out-stripped the Cairney defence and slotted
home from close in. Blue Brazil would like to thank the match sponsor www.sidey.co.uk.
*******************