Fixtures, Results, Special Events, Ect,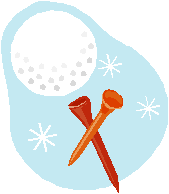 **********************
**********************
SIXTY juniors from North Berwick Golf Club concluded their golf season on
recently with a skills clinic, led by PGA professional, Martyn Huish and chipping and putting clinics run by clubgolf PGA Volunteer Coaches. The clinics were then followed by a fun Texas Scramble on the challenging North Berwick's Children's Course.
Nine teams competed offering children from all stages within the clubgolf Player Development Pathway the opportunity to integrate and play competitivey with their peers. Children and parents then returned to the clubhouse where prizes donated by the Professional Shop were presented to the four leading teams in the Scramble Competition and all children received their clubgolf course certificates for completing their season of 20 hours of coaching. Alan Chainey North Berwick clubgolf Coordinator said: "Everyone enjoyed the activities which were played out in wonderful weather. There is great enthusiasm for and appreciation of the opportunities provided by the clubgolf programme offered at North Berwick this summer."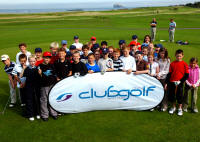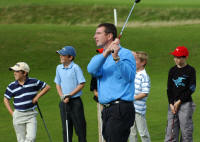 Larger photos in photo albums
**********************
NORTH Berwick's Catriona Matthew might have hung up her own clubs in
expectation of her first child, due in December, but that has not stopped her encouraging the area's youngest generation of golfers. On Craigielaw Golf Club's South Links, the two-time winner on the
LPGA Tour encouraged and caddied for 28 East Lothian primary school children who have been introduced to the game at Gullane Golf Club through the national junior golf strategy, clubgolf. "We started the coaching this year in May and every Sunday these children
have been coming to us week in and week out," said Gullane Golf Club's clubgolf volunteer coach, Iain McLean. "As part of the course we organised events for them at North Berwick, Gullane and Dalmahoy during the Charles Church Seniors event. Today is a
competition to mark the end of the course. We are very grateful to Catriona for coming and spending the afternoon with us. Meeting someone who comes from the same area and has gone on to become one of the world's top lady golfers can only inspire these children to stick
at it and keep improving."

Catriona, who clearly enjoyed the experience of encouraging children to play the game, said, "It's great to see so many children, especially girls, playing today. This is the perfect course for children to practise on, very
similar to the one I started on in North Berwick; it's not intimidating at all. You can see they know all the basics, now they need to get out and play as much as they can."

"clubgolf has been great for the kids," added Iain McLean. "It breaks down all the barriers that might have faced juniors before, it gives them an opportunity to get into a golf club and play amongst their own peer groups."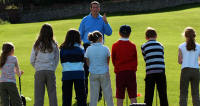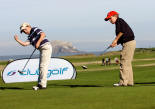 **********************
THIS year almost 700 Primary 5 children in Dunbar, Haddington, North
Berwick and Prestonpans school clusters were introduced to golf in school through
clubgolf's introductory game - firstclubgolf. A hundred and twenty four children - including 36 girls - chose to progress on to clubgolf Stage 1 at Craigielaw, Fisherrow Pitch and Putt, The Glen, Gullane, Haddington, North Berwick and Winterfield Golf Clubs. Alongside this new intake, 64 children who completed clubgolf's Stage 1 course in 2005 moved up to Stage 2 of the programme, building on existing skills and learning new skills such as bunker play. To deliver these courses, East Lothian now has a growing army of 43 fully qualified volunteer
coaches. Looking to the future, 2007 will see the programme rolling out across East Lothian to include Musselburgh and Tranent. Over 1000 Primary 5 children will experience golf as part of their Primary 5 PE curriculum and it is estimated that approximately 400 children will be involved in the clubgolf programme at East Lothian golf clubs and facilities. If you would like to find out more about the programme, as a club, coach or player, contact Kate Green, Junior Golf Co-ordinator
East Lothian Council. Telephone 01875 619071 or by email on kgreen@eastlothian.gov.uk

*clubgolf is a partnership between the Scottish Golf Union, the Scottish Ladies' Golfing Association, the Professional Golfers' Association, the Golf
Foundation and sportscotland. The strategy has been developed as a direct result of the Scottish Executive's commitment to introduce every nine-year-old child in Scotland to the game by 2009. - clubgolf is funded by the Scottish Executive which has committed £500,000
per year to the scheme through sportscotland until 2009.
As Scotland's national junior golf strategy, clubgolf is backed by Scotland's most famous golfers, Paul Lawrie, Sandy Lyle, Catriona Matthew, Colin Montgomerie, and Scotland's First Minister, Jack McConnell, MSP and
Sports Minister, Patricia Ferguson, MSP. It aims to provide new opportunities in the game for every child in the country and to increase participation in the sport by adopting a totally new approach to the development of junior golf. clubgolf has been introduced at a point where, of the 260,000 members in the 580 clubs north of the border, the average age is between 42 and 44
years old. This figure is likely to rise in line with the demographic trend of an ageing Scottish population. Although memberships have grown at a rate of just under five percent during the past decade, there has been an
increase of almost 20 percent in the number of courses built over the same period. clubgolf aims to build on existing traditions and club infrastructures to
develop a new and innovative approach that will introduce new participants to the game and secure the sport's future. Clubs across Scotland are playing a vital role in the clubgolf strategy. Following clubgolf's six-week firstclubgolf course, children have the
opportunity to progress to the second phase of clubgolf's Player Pathway, Stage 1. Hosted by their local clubs, Stage 1 is a 23-hour course, covering the fundamentals of putting, chipping, full swing, rules and etiquette,
taught by the club's fully trained volunteer coaches. After Stage 1 there are a further four stages on the Player Pathway. clubgolf's targets for 2009 are: 50,000 9 year olds introduced to clubgolf every year through firstclubgolf; 50,000 9-14 year olds retained in the clubgolf programme at any one time; 20,000 9-14 year olds experiencing golf in a community golf programme
setting; 200 clubgolf centres (golf clubs and community linked centres delivering some of the above); 20 junior clubgolf facilities (new clubgolf facilities); 40 affiliated junior golf facilities (driving ranges/practice facilities
utilising the clubgolf brand).

***