Fixtures, Results, Special Events, Ect,

THE pantomime season was in full swing at the Castleview Centre in Craigmillar,
where Duddingston Inn hosted The Burnside Pub team from Cupar in Fife in a Scottish Sunday Amateur Cup clash - and what a travesty of a game it was before it was eventually cut short with the home side leading 9-1 and a Burnside player in hospital to have his knee treated with the 'joker in the pack' who replaced the injured player sent off within minutes of coming on! No one could possibly have 'written the scrip' for this cup tie. All that missing in this game to make it a rival to any of the seasonal fare currently attracting audiences to the big theatres in the city was a band and dancing girls (hardly likely in Craigmillar). Local amateur fan, Ronnie Handren, was like Father Christmas, handing out sweets from his inexhaustible supply in his pockets, we had lots of goals, drama galore, hilarious nonsense before the start of the second half when it appeared the team from Fife did not want to continue and the referee seemingly unconcerned at what was going on around him as he demonstarted his 'keepie-up' skills with the ball. The playing surface at this famous old pitch in Craigmillar was rutted and bumpy but even that did not hold up the action from the home side as they set about their cup opponents, scoring five times without reply in the first half. There was a long delay before the curtain - sorry, start - went up at this game, with Burnside held up in the heavy traffic coming in to Edinburgh from Fife and the referee, Kevin Riddell (Dundee), also late in arriving. Looking back, I should have made a run for it as my gut feeling then was that it was not going to be a good game to watch. Eventually, when I managed to get a copy of the programme (team lines), I noticed there were only 11 actors on both sides. Fair enough, that ensured the game would go on. From the start, the shouting from the players on the pitch ensured this was not going to be a 'family friendly' type of game! Somehow or other, it took Duddingston Inn fully 14 minutes to open the scoring - from Joseph (I kid you not) McLaughlin, who placed the ball low down in to the left-hand corner of the Burnside goal. After another hectic spell of action in the visitors goalmouth, John Robertson scored the second goal from a penalty. I must admit I was also baffled at the names on the home teamsheet. Goal number three duly came along scored by I know not whom! It was after that goal that the game was held up when Burnside's No 8, Barry Sibanda, went down heavily when challenging Duddingston keeper, Scott Gordon (I got that right) for a ball in the goalmouth. Both players were hurt in this incident but it was Sibanda who had to be carried off the pitch. He was dumped on the sidelines where he was left lying on the damp ground for fully 30mins before an ambulance arrived to take him the Royal Infirmary. The Burnside official on the touchline had no medical bag with him and, upset at the lack of treatment, Ronnie Hangren came over to remonstrate with the Burnside man. Whether of not Ronnie offered the stricken player a sweet, I do not know! It was that type of pantomime! Meanwhile, on the pitch the pantomime - and the swearing continued unabated! A mysterious 12th player - wearing No 13 on his jersey - had come on for Sibanda and, in the words of Ronnie Hangren - he was drunk! The Craigmillar stalwart did not actually use that word, he used a much more graphic phrase to describe the condition of the big red-haired and red-bearded 'Rory' who was on the pitch for what proved to be no more than a cameo appearance on the big stage at the Castleview Centre in Craigmillar. Big Rory's first piece of the action was to send an enormous clearance from his own 18yd line in to the Duddingston goalmouth and the home side eventually conceded a corner. Hapless hero, Rory, staggered up for the corner kick and in the ensuing rammy in the Duddingston goalmouth, the bold boy appeared to strike the Duddingston keeper, Exit, stage left, big Rory to the accompanying fusilade of cursing and swearing from his team-mates! Robertson scored a fourth goal for Duddingston and it was this accomplished player who took the score to 5-0 at the break. As I watched from the touchlines, I thought to myself: "What the hell am I doing here? I don't like pantomimes!" Oh! yes you do . . . oh! no I don't! With the whole situation at the Castleview Centre in disarray, Mr Riddell entertained the audience with a great demonstration with the ball to the sounds of oohs! and aahs! from an appreciative audience of one - himself! Would the game restart, I asked myself - oh! no it wouldn't (hopefully) . . . oh! yes it did (to my horror!). By that time the ambulance had arrived and as it was physically impossible to bring the vehicle on to the pitch at this venue, the two paramedics had to carry Sibanda - swinging him like a pendulum on his one good leg - to the vehicle on the road outside to whisk him off to the Royal Infirmary! Meanwhile, to open the second act, Robertson scored another penalty to take the score to 6-0 and then, surprise, surprise, Burnside started to play good football and Gary Reilly beat the Duddingston offside trap to score a goal to take the score to 6-1. The massed ranks of a couple on the Burnside touchline rose in adulation to applaud the scorer of this goal! I was left waiting in vain for the 'band' to strike up with a few bars of the Conquering Hero! Were we going to see the mother-and-father of all fight backs from the Fifers? Oh! no we were not! Duddingston then scored the goal of the game when, I know not who, broke from the halfway line and outpaced the struggling visiting defenders to run on and strike a great ball past Burnside keeper, David Alezander, to make it 7-1. That stunning goal was followed by a bewildering display of lack of skill from big Joseph (he deserved a starring role in this Christmas paantomime), when he proved he was game for a laugh by showing great skill to beat a couple of defenders, round the Burnside goalkeeper and, from a few yards out and the stable door (sorry, goal) gaping open in front of him - fire his shot wide! The 'three wise men' on the Duddingson touchline erupted in hysterics! The chastened Joseph, who will never live that miss down, made amends shortly after when he made it 8-1. I was past caring by then but the same player then made it 9-1 and with a considerable time still left to play, the referee decided to end this farcical pantomime to the delight of all of us unfortunate enough to be at the Castleview Centre. As a pre-Christmas treat, it was a total disaster, but, in its own way, the match official's final whistle was indeed, 'divine intervention' as far as I was concerned. "Let me out of here," I muttered to myself as I squelched over the muddy pitch heading for the exit and a return to sanity! Here are the names given to me of the actors who took part, minus big 'Rory'. If you believe these are the right names, you must also believe in Father Christmas! This Scottish Sunday Amateur Cup clash was a one-off, there are no matinees or repeat performances planned (thankfully)!
Duddingston Inn - Scott Gordon, James Hainey, John Nelson, Steve Handren, Patrick Kelly, Darren Hainey, Peter Raeburn, Alexander Robertson, John Stevens, Joseph McLaughin, John Stevens.
Burnside - David Alexander, Paul Toehill, Scott Makem, James Logan, Stuart Harrison, Stephen Kinmart, Craig Wilson, Barry Sibanda, David Simpson, Darren Mason, Gary Reilly.
Stage manager - Kevin Riddell (Dundee).
A very fit and smart Edinburgh University side were taught a football lesson by Sandys, in their Lothian & Edinburgh Amateur FA premier division clash on the tight pitch at the rear of the Castleview Centre in Craigmillar. Sandy's spokesman, Gary Handren, said: "Edinburgh University are a very good side and we could not allow them to develop their passing game so we were 'in their faces' from the start. We played exceptionally well and we played great football!" On a very cold winter's afternoon, with most of the council-owned facilites declared unplayable after the horrendous downpours of rain during the week, Sandy's home pitch was in quite good condition and there was no doubt that the game would go ahead. The very experienced home side went at the students from the opening whistle and University goalkeeper, Chris Rochester, pulled off two outstanding saves to deny Sandy's in the opening minutes. Ian Crease caused havoc on the right side of the pitch and with John Robertson having a magnificent game in setting up chances for his team-mates, the students were pushed to the limit to keep the home side out. Rochester must have wondered what his side had done to upset Sandy's such was the ferocity of the attacks in the opening minutes and this exceptionally brave young keeper suffered a bad injury to his forehead when he displayed incredible courage to throw himself at a loose ball in the goalmouth to deny Gordon Lindsay what looked like a certain goal and the unfortunate keeper suffered a deep cut from Lindsay's boot. It was a total accident and Rochester was made to suffer for his bravery as he had to leave the field and go to hospital to have the wound stitched up. That was in the 9th minute and Jamie Newton took over in goal for the University, with one of his first tasks having to pick the ball out of the back of the net, with a fierce shot from Robertson on the right going across the face of the goal to Lindsay, and this good young player was able to pick his spot in the net to put Sandy's 1-0 up. The relentless surge on the University goal continued with the high tempo style of play from the home side amost bringing another goal, but this time the stand-in keeper produced a wonderful save away up to his top left-hand corner of the goal to keep out a net-bound Robertson header. When the University broke free, they almost snatched an equaliser, but a shot from James Stirratt smacked back in to play off Sandy's crossbar. But the relentless attacks on the visitors goal continued, with Robertson in brilliant form, while the Crease brothers (Ian and Thomas) and James 'Bob' Clarkson causing mayhem in the Universtiy rear ranks every time they attacked. It was great all-out football from the premier division high-fliers. When the visitors did get their passing game going, they too caused the home defence problems and Gordon was in action to clear the danger, but most of the play took place at the other end of the pitch. A thundering free-kick from Jackie O'Donnell brought out the best in Newton once again. At the end of a tremendous first half, Sandy's still led by that solitary goal and the scene was set for a great second period to the game. The home side made a great start to the second half, scoring their second goal of the game early on and what a real beauty it was. Robertson sent in a screamer of a free kick from the right of the pitch and Clarkson came steaming in at the left-hand side of the goal to send a screamer of a header past Newton to take the margin to 2-0 in Sandy's favour. Shortly after that, Robertson again delivered a perfect defence-splitting pass through the middle of the University defence for Clarkson to run the ball over the line to make it 3-0. There was a lull in the Sandy's attacking following their third goal being scored and the University outfit's slick passing game started to click, setting up chances in the home goalmouth. That type of game needs to build up a momentum and the experienced Sandy's rearguard produced telling tackles to break up the moves. Allied to that, some of the shots at goal from the students were way off target and failed to trouble Gordon. When the ball was switched to the other end of the pitch, it was that man Robertson who invariably picked it up and he set up Clarkson on a couple of more occasions, but 'Bob' was denied twice but Newton. Thomas Crease also fired one in to the side net from a good position and Newton came off his line again to go down bravely at Clakrson's feet to deny him his hat-trick. The game ended with Newton bringing off another outstanding save. This was a well contested and sporting game of football to the credit of both sides. On a bigger pitch, Edinburgh University might have enjoyed more success from their quick passing and movement, but the tight and bumpy playing surface at the Castleview Centre was not conducive to that type of game. Sandy's got it right again to keep up their title challenge with positive and aggressive attacking football. It is a sure-fired recipe for success. This latest win was accomplished by all their players playing at their best, with Robertson outstanding! This game was also very well controlled by an excellent referee in Paul Campbell.
Sandy's - Scott Gordon, Lee Demarco, Hugh Meenan, Darren Hainey, Jackie O'Donnell, Dale Miller, Ian Crease, James Clarkson, Thomas Crease, John Robertson, Gordon Lindsay, Duncan McNeil, Liam Gormley, Sean Comerford.
Edinburgh University - Chris Rochester, Scott Brown, Gordon Bartlett, James Stirratt, Paul McAvenue, Tom Coffield, Euan Halliday, Keith Brazendale, Ian Fleming, James Newton, Gordon Hardie, Martin Logue, Gavin Graham, Andrew Cruickshank, Steven McCann,
Referee - Paul Campbell.
Newcraighall Leith Vics eventually go their much-delayed away third round Scottish Amateur Cup again California Star played and they recorded a magnificent 3-1 win with goals coming from Bobby Reid, James Riley and Steve Igoe. Newcraighal will now play Dumbarton Rock, away, in the fourth roung on Saturday, January 6. To keep the squad in action, however, the Newcraighall Leith Vics coaching duo, Joe Malcolm and Mark Ballantyne, have fixed up an attractive home friendly against Falkirk Amateurs for Saturday, December 30. The kick-off is at 2.00pm and this game should attract a good crowd of men, at least, wanting to get a break from the Sales!
E.S.A.F.A. REPORT
LINKS UNITED V LETHAM - SCOTTISH AMATEUR CUP
Paul Roberts was the star of the show for the second week running when he scored five goals in Links United's demolition of Letham United in the 2nd Round of the Scottish Amateur Cup in Perth.
Last Saturday, the twice postponed 1st Round tie against Spartans finally went ahead at the Civil Service Ground on a heavy pitch and low winter sunshine. During the first half, Links settled well and played some impressive football. However, they were unable to break through the tall Spartans defence and there was no scoring in the first 45 minues.
Immediately following the restart, Jason Wood went close and Andy Ritchie in the Links goal made a fine save before the shot was ruled offside. Two minutes later Spartans took the lead when a Mark Foster cross was fired into the net by Ross Hutchison. Almost immediately, Links were back on equal terms when Captain Jordon Leishman struck a fine shot beyond the Spartans keeper.
Links had a number of chances, particularly through Stuart Seigal, whose header found the side netting and Wood again, who looked lively all afternoon.
The winner came with only three minutes left, following a corner from Ryan Dignan. Seigal's header was saved but Paul Roberts was perfectly placed to make no mistake with his right foot strike and secured a 2-1 victory for Liniks.
Links travelled to
Perth
for their 3rd Round tie and took control from the kick off. They gave the
Perth
team barely a look in and recorded a great 9-1 victory. In addition to Roberts' five goals, there were singles for Peter Carrol, Ryan Dignan, Andy Barker and Jordan Leishman.
Next week, Links will meet St Bernards Muirhouse Terrace in their once-postponed East of
Scotland
Cup tie.
After having been beaten for the first time this season, Second Division Roslin da Vinci were looking to reverse their fortunes in their meeting with Leith Persevere at Seafield on Sunday. However, it was the home team that took the spoils after an entertaining encounter.
It was an evenly matched affair in the first half as both sides had chances early on but it was Leith Persevere that took the lead after a great run and finish from Keith Rennie put the home side ahead. It was short lived, however, as Roslin scored immediately from the centre when the stand in goal keeper Craig "Banana Man" Morrison misjudged the shot from Kenneth McBeth inside his own half and it looped in over his head for a spectactcular equaliser.
5/11/2006
The second half started with Roslin pressing for a goal but it was Leith Persevere that showed their class when they broke up field and Scott Douglas latched onto to the through ball finished clinically. Two minutes later Leith Persevere scored again with an excellent passing involving veteran Alan Dickson, JamesCopland and Rennie and finally slotted home by Eddie Gallagher. Roslin tried in vain to get a goal back but Persevere went closest when Scott Douglas scathing shot rattled the bar. The game was wrapped up ten minutes from time when Persevere top scorer Eddie Gallagher slotted home for his second from an excellent cross by Adam Robb for an impressive 4-1 victory.
John Sutherland continued his goal scoring exploits with another double in Fa'side Bluebell's 5-2 win over Second Division leaders Anvil. Two from Willie Lawrence and a single from Tam o'Donnell made up the total and continued Fa'side's climb up the table. Sutherland took his season's total to 28 goals in eleven games andis undoubtedly one of the hottest strikers in the league on this form.
In a game that could ultimately decide who stays up and who goes down from the First Division, Burnside arrived at the George IV pitches, Loanhead knowing a victory over Top of the Toon would put them seven points ahead of their rivals. Despite Toon's greater need for the three points, it was they who settled down first and put Burnside on the back foot. They pinned them back deep in their own half with a succession of dangerous corners and neat attacking inter-play, it was no surprise then when Graeme Hunter raced onto a Mick Mangan through ball and drilled home the opening goal with a confident left foot strike.
If there was a lesson to be learned from Toon's first goal, Burnside had not read their lines, as shortly after opening the scoring Hunter once again raced onto a through ball to majestically lob the on rushing Burnside keeper.
The confidence was now evident throughout the whole team with all facets of their play working well and most importantly, the team was playing with harmonized fluency all over the park. The wing-backs in Rainey and Guthrie were a constant source of difficulty to, Burnside as their mixture of pace and incisive inter-play always had them on the back foot. Up front Graeme Hunter, who was sporting what can only be described as a shocking hair style, was in imperious form, obviously wanting to prove a point after being dropped last week. Alongside Hunter, Kevin Wilkie proved to be a typically assured and aggressive foil to the dangerous Hunter.
As the first half wore on Burnside, put Toon under pressure and a series of half chances were dealt with comfortably by Sean Mangan, who also managed to ensure that Toon went in two goals up with a stunning save diving full length to his right to keep a goal bound effort out.
The second half began with a typically nervy first five minutes for Toon, as Burnside tried to use the slope and wind to their advantage. The relief then, when Hunter completed his left foot hat-trick, was palpable. Toon now had all the confidence in the world and some of their play was the best of the year, and in all honesty it looked like they could score at will as time and time again the Burnside defence was split wide open with incisive through balls. It was no surprise then when Darren Allen got the last touch to an old fashioned 'stramash' in the box to put Toon four goals up.
Keeper Mangan managed to blot his perfect copy book with a needless penalty for shoving in the box. It was a penalty that lead to Burnside's consolation goal, but in the last fifteen minutes Toon cultivated and crafted a succession of chances, that if taken would have been a fairer reflection of their domination.
The final 4-1 scoreline but it was impressive that a team, desperately short of confidence all year, played with such fluency, and Secretary Duncan Mackay it now hopeful that they can now carry this upturn in form and performance throughout the rest of the season.
In the Premier Division, Cramond Star returned to their winning form with a 6-2 victory over Duddingston Thistle with goals from Jay Anderson (2), James Aris (2), Mark Reid and Ally Muir.
Amongst the interesting games on Sunday 12 November are the meeting of Castlevale and Speirs at Cairn Tows and in the Second Division AC Peffermill will be looking to make up ground on the leaders in their meeting with Sam's Bar at Peffermill.
E.A.D.S.A.F.A. REPORT
IT is embarrassing to watch a game in which one of the teams is totally outplayed by a much better side and that was the case for me at the Jewel, where Southfield beat Royal Life 10-1 in the top division of the Edinburgh Districts Sunday Amateur (Fair Play) League. I knew many of the players in the Southfield squad and I must say I was not surprised the way the game developed. Royal Life looked totally outcalssed and they looked to be neither fit nor organised enough to take on a team of the stature of Southfield. It was not pleasant to watch and, indeed, the final scoreline could have been doubled, such was the dominance of the visiting team. The score was 6-0 at the halfway stage with goals coming at regular intervals from John Robertson, David Aitchison, Robertson (again) . . . and again, Jordan Mein and a brilliant effort from Mark Restorick, who floated a great ball over the out-coming Royal Life goalkeeper, Martin Forbes in to the empty net to make it 6-0. After the restart, Southfield survived a scare when Steve Crawford headed a great effort just over the bar. But play soon switched to the other end and Robertson continued his goal-scoring quest when he added another goal to take the margin to 7-0 in favour of Southfield. It was all too easy for them as they gave the tiring opposition the run-a-round in a one-side game(?). A brilliant passing move ended with Dale Miller scoring the eighth goal for Southfield, or was it Jordan Mein? I was virtually past caring at this stage. Then Robertson used his skill to the utmost to completely deceive the Royal Life defence to take the score to 9-0. Robertson then provided the cross from the left for Thomas Crease to head home the tenth goal of the game. The, to my complete astonishment, Royal Life made it 10-1 with a goal from Darren Sutherland. Even the players in the visiting side ironically celebrated that goal for the home outfit. The final goal of the game was the best of all, an absolute classic encounter that I always see as a 'footballer's goal'! Ian Crease sent over a cross from the left and Robertson ran on to it and smashed a wonderful volley in to the back of the Royal Life net. It was the kind of goal that always gives me a tremendous thrill to see executed in such brilliant fashion. By that time, however, Royal Life were well and truly, 'dead and buried'!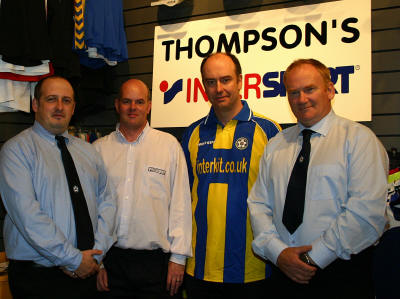 These pictures were taken 5th October 2006 at Thompson's Intersport premises in Elm Row, as part of a photoshoot to mark the presentation of a complete new football strip to be used by the representative squad of the Edinburgh and Districts Sunday Amateur Fair Play League and a sponsorship cheque for the top division of the league. Director of the sports retailers, Craig Docherty, acted as model to show off the striking new jerseys, with the league represented by Keith Jones (left) and Len Blackie (right). Team Sports Manager at Thompson's Intersport, Charlie Lowrie, is second from the left in the group.
TheLeague Secretary of the
EADSAFA said: "Officials and members are pleased that a company such as Thompson's Intersport has chosen to sponsor a division and supply us with a set of strips for our Association Select, wich will be playing numerous charity matches in the future. We are still looking for opponents for these matches and should any companies be interested, they should contact me at keithjones2004@blueyonder.co.uk. We donated several toys including a Playstation2 and games last Christmas to Edinburgh Sick Kids Hospital and we will be making a donation to St Columba's Hospice this year as this establishment does a lot of work and needs the funding. It is also a place that is close to my heart as my grandfather was looked after there in the last few months of his life and we feel the hospice deserves all the support it can get!
"The EADSAFA is growing each year and we look forward to receiving yet more applications from teams, new and old for next season. Any teams interested should contact me on the email address given."
And, anyone 'intersport' should contact Charlie Lowrie at Thompson's Intersport at Elm Row on 0131-556 3463 and ask for a discount card. All holders of these cards can make great savings, individuals get 10 per-cent off, while teams ordering complete new outfits get at least 20 per cent off. And it is not just football that is catered for in this 'Aladdin's cave' of a place. It is stocked, literally, to the rafters with clothing and equipment for every conceivable sport. Mr Lowrie added: "We have been involved in supplying teams kits for many years now, but we possibly do not advertise our services enough. But all that is about to change and we will become much more aggressive in promoting our services!"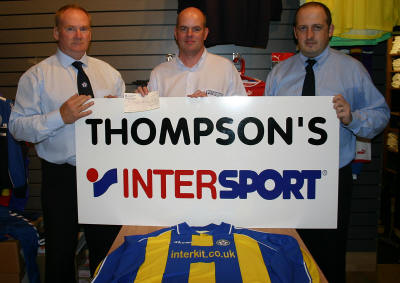 **********************
E.S.A.F.A. REPORT
GAMES at all levels in minor-grade football last weekend were the last chance for many clubs to give themselves winning boosts prior to this weekend's ties in the Scottish Cup. Heriot Vale registered a good 3-1 win against Heriot-Watt 'A' in the Miller Cup and the Lothian & Edinburgh Amateur FA outfit have a good balance about their side, with lots of experienced players in their ranks, too. Uphall Station were in cracking form when scoring six goals without replay against Broughton at Craigswood Sports Centre. Newcraighall Leith Vics, meanwhile, did exceptionally well to beat Blackridge 3-1 away while Spartans also registered what must be seen as a superb away win, beating Addiewell Hears 4-1. This Saturday is the moment of truth for these clubs and all others from the L&EAFA as they prepare to take on all comers in the Sports World Scottish Amateur Cup. Clubs are reminded they can send short match reports to mackayian@blueyonder.co.uk complete with full names of all goalscorers, from both sides. Links United, playing excepitionally well in the Caledonian League, entertain Lothian Thistle (L&EAFA) at the lovely Civil Service Sports Ground. Lweith Athletic, one of the three Edinburgh clubs in the Central Scotland AFA, are away to the young Fernieside outfit, at Peffermill. The all-conquering Redhall Star are away to Milton U24s, while Newcraighall Leith Vics entertain the lovely named Auchtermuchty Bluebell at their lovely home facility in Newcraighall Park. Heriot Vale, meanwhile, may feel they have drawn the 'short straw' with a game against Spartans FC 2nd XI at Peffermill. Here is the full list of games due to be played in the biggest Scottish Cup event in the country:
E.S.A.F.A. REPORT
Outhouse started their league match against Sam's Bar with an impressive 100% undefeated record. New boys Samís Bar had something to prove which meant this was never going to be an easy game for the Outhouse. The game was played in typical Scottish weather on the pitches at Roseburn with plenty of wind and rain. Neither teams were deterred and started promisingly with both coming close. A cut back from Outhouse's Andrew Alexander came close to a goal when Derrick Schieffer lashed the ball just past the top corner. Samís Bar were unlucky with a missed one-on-one opportunity and free kick that was just over. The half ended goalless with both teams looking sharp and it only look like a matter of time for the deadlock to be broken.
The second half started at the same pace until a break in play when Outhouses Sandi Haldane sustained an injury when fiercely challenging for the ball. With no substitutes, Outhouse were forced to play on with ten men. Samís Bar should have capitalised with the reduction in players but Outhouse' strong team performance and will to win ended up breaking the deadlock. A cut back to top scorer Derrick Schieffer led to a cool finish and one Ė nil score line. The second goal was a solo effort by Schieffer, who skillfully rounded three players before composing himself and slotting the ball into the bottom right corner of the net. To finish the scoring, a simple cut back to Derrick Schieffer and equally straight forward finish made it 3 Ė 0. A good victory from the Outhouse, and great effort from Samís Bar who may feel the score line didnít reflect their performance on the pitch. This performance puts Outhouse back at the top of the Second Division, leap frogging AC Peffermill, whose Scottish Sunday Amateur Trophy tie was rained off. Manager Ben Stevens was delighted with his team's performance "we showed our team spirit and determination and our efforts were well rewarded."
The one-man goal machine that is John Sutherland continued his exploits for Fa'side Bluebell with a hat trick against Roseburn Athletic. Strikes from Chris Beck, Allan Livingstone, Ian Oliver, Willie Lawrence and Chris Harvey contibuted to the 8-2 final scoreline. City Limits also maintained their 100% record in the First Division. A great 9-2 defeat of Gilmerton now extends their run to seven games
AC Portobello stepped up their pace with a 3-1 victory over Lothian Star at Meadowmill with goals from Ryan Kane (2) and George Taylor.
Scottish Sunday Amateur Trophy
Roslin Da Vinci splashed their way through to the second round of the Sunday Amateur Cup with an emphatic 4-0 victory over local rivals Top of the Toon in monsoon conditions at Bilston Park. However, it was far from plain sailing for Tony Brown's Second Division outfit who struggled in the mud to produce their best form despite taking an early lead when the outstanding Alan Miller ended his goal drought with a near-post header. Indeed The Da Vincis had to rely on keeper Ian Renton to bail them out with a magnificent second-half penalty save after captain Danny Scott gifted the First Division side a spot-kick by needlessly fouling in the box. But Roslin rallied to kill off the Loanhead men with goals in the closing 15 minutes from Murray McRae, Mike Wilson and another header from Miller. A relieved Miller said: "I'm delighted to get the goals because I've been taking a lot of stick off the boys for the chances I've missed in recent games." Manager Brown added: "It wasn't our best performance of the season but we did what we had to do on a very heavy pitch. I'm just relieved to be in the hat for the next round because it's always difficult to play a team from the league above you." (Selection of photos to follow)
Speirs, the Johnnie Cope and LBC all recorded victories against Kinglassie, North Edinburgh Wanders and Southfield respectively, whilst unlucky Sparta's game was abandoned due to the atrocious weather. They must try again on Sunday against North Broomage whilst Castlevale travel to play Linlithgow and AC Peffermill entertain Harvester after their matches were postponed.